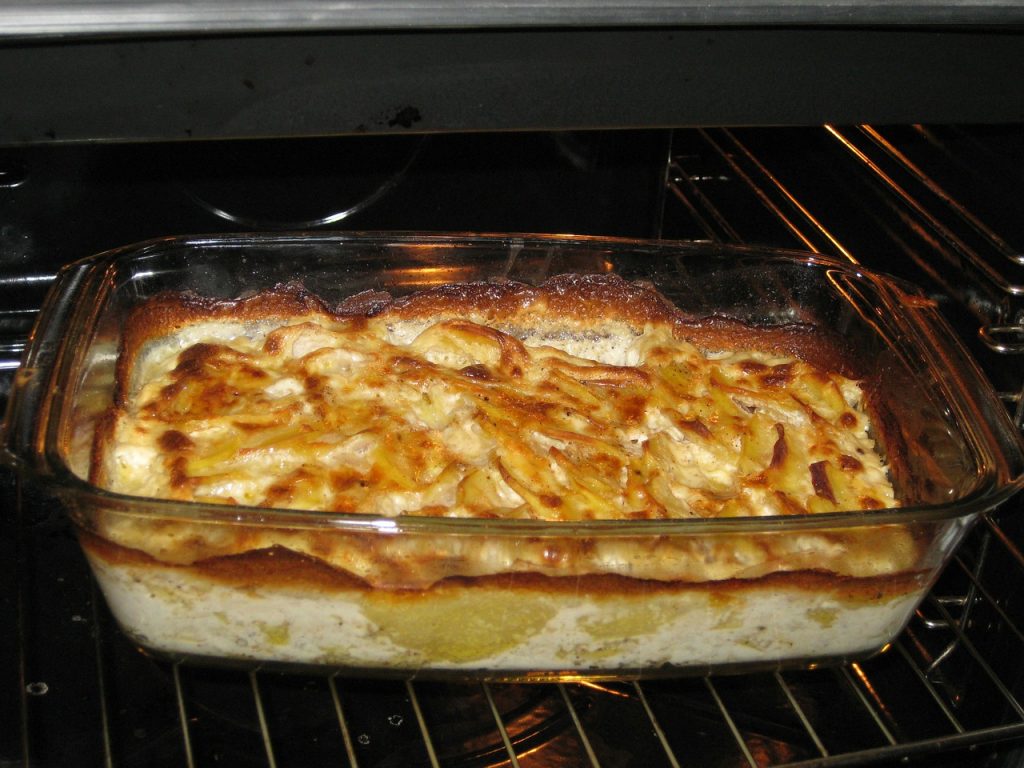 Potato gratin is one of the great side dishes. This is one of the most favorite dishes for many people. However, one of the questions I get from my friends is about storing potato gratin. In this post, I will answer the underlying question.
So, can you freeze potato gratin? Yes, you can freeze potato gratin. You can just put it in the freezer for up to two weeks. However, you need to make sure that you put it in a sealed container. You can use aluminum foil or plastic wrap. I prefer plastic wrap for a more successful result.
Another thing to remember is that freezing potato gratin very long could potentially affect the texture and flavor. If not consumed within an ideal freezing time, it will lose its quality.
What Is a Potato Gratin?
Potato gratin is a thinly sliced potato baked with sprinkled cheese or milk. This recipe has many variations. But the only thing that is common is its distinct taste. It is undeniably indulgent and delicious.
The good thing about this recipe is its simplicity. Anyone can make a potato gratin. It is the perfect side dish at a gathering or small family occasions.
What Are the Main Ingredients of Potato Gratin?
As mentioned, it is easy to make a potato gratin. It only requires a few available ingredients and you're good to go. Here are the basic ingredients of potato gratin.
Garlic and onion provide great flavor for potato gratin. So make sure that you have them included.
You don't have to have to be picky here. You can just use all-purpose flour for this recipe. As you know, all-purpose flour is pretty common and accessible.
You can use any type of broth like chicken and beef broth. It is just a matter of personal taste preference. You can add milk to make the sauce creamier.
You can use any type of butter you like. But what I usually use is the unsalted one. But of course, it is my personal choice. You can choose whatever you like.
To add extra flavor and aroma, you can add some spices to it such as thyme, pepper, and salt.
You can use different types of cheese too. This helps create a variety of colors and flavors in the dish. For instance, for layers and toppings, I use yellow cheddar cheese. You can have multiple variations and combinations if you like.
You can just pick regular potatoes and slice them thinly. I prefer 1/8 inch each piece. This will help cook the dish evenly.
How to Make Potato Gratin?
Baking a potato gratin is simple and quick. It only involves a few easy to follow steps. Here are the steps you can follow to make your own potato gratin.
Step 1: Prepare the oven and casserole dish
The first thing you can do is to grease a baking dish with cooking spray. Then set it aside. Preheat your oven to 400 degrees Fahrenheit.
Step 2: Prepare the sauce
You can begin by melting the butter in a large sauté pan on medium heat. Then you can add sauté and onion for about 4 to five minutes until it becomes soft and translucent. Add the garlic for about one minute. Then stir it in the flour until it perfectly mixes together. Now you can gradually add the broth and mix the ingredients together. Then add the remaining ingredients such as milk, pepper, and salt and mix them thoroughly. Cook for another 1 to two minutes until the sauce barely simmers around the edges of the pan. Then remove it from the heat before it boils.
Step 3: Layer the casserole with the sliced potatoes
In this step, you can start making a layer of sliced potatoes on the bottom of the pan. Just make sure that you do it evenly. Then top it with evenly spread cream sauce. Now, evenly sprinkle the top with one cup of shredded cheese. Top it with the remaining sliced potatoes, cream sauce, and cheese.
Step 4: Bake
The final step is obviously baking. But before you do it, make sure that the pan is covered with aluminum foil. Then bake it for about forty-five minutes a 400 degrees Fahrenheit. After that, remove the foil and cook it for another 30 minutes. This should cook the potatoes through. A perfectly baked potato gratin has a golden-brown crust. It is time to let the pan cool and add chopped thyme on the top. There you go, you have a delicious potato gratin.
What is the Main Difference Between Scalloped Potato and Potato Gratin?
Well, there is no significant difference between scalloped and potato gratin. The only thing that they differ in is the cheese content. Potato gratin has cheese while scalloped potato does not.
Another slight difference between the two is the way they are sliced. Potato gratin is sliced thinly while scalloped potatoes are sliced thicker.
As you can see, there is no major difference between the two. This is the main reason why they are often confused. Both have a common major ingredient – the potato. If you love potatoes, you might also like either of the recipes.
What are the Best Types of Potatoes for Potato Gratin?
If you are looking for a type of potato that probably has the best texture and taste for potato gratin, choose Yukon gold potato or Russet potato. In my opinion, these two retain their shape and texture when baked in cream.
However, also remember that the choice depends on your personal preference. Any type of potato can be baked as potato gratin as long as you prefer it. So be free to explore and find out your favorite.
What to Serve with Potato Gratin?
There are many dishes that you can serve with potato gratin. Again, this is a matter of personal choice and preference. In most cases though, potato gratin is served with meats, beef for instance.
A spicy sausage made with beef or steak can also be a great pair with potato gratin. But the choices are infinite. Just stick to what you want and everything is okay. As mentioned, there are many dishes that are great potato gratin partners.
Final Thoughts
Baking potato gratin is one story storing it for later consumption is another. Can you freeze potato gratin? Yes, absolutely. Freezing is a great way to preserve the dish.
Just remember to cover the container thoroughly to keep the dish safe.
Related Question
How long can you freeze potato gratin?
You can freeze potato gratin up to 2 weeks as long as it is securely stored in an airtight container. Freezing potato gratin more than this time duration may potentially ruin the quality of the dish.